Came across an article on CNN.com about Norman Rockwell's granddaughter, Daisy. She has painted Bin Laden, Sadaam Hussein, and other dead enemies of the state from the Muslim world. After I finished reading the article, I noticed that everyone who commented on the story was trashing her "for painting terrorists". Then I got to thinking about her Grandpa Norman's brilliant works, he is one of my favorite geniuses of all time.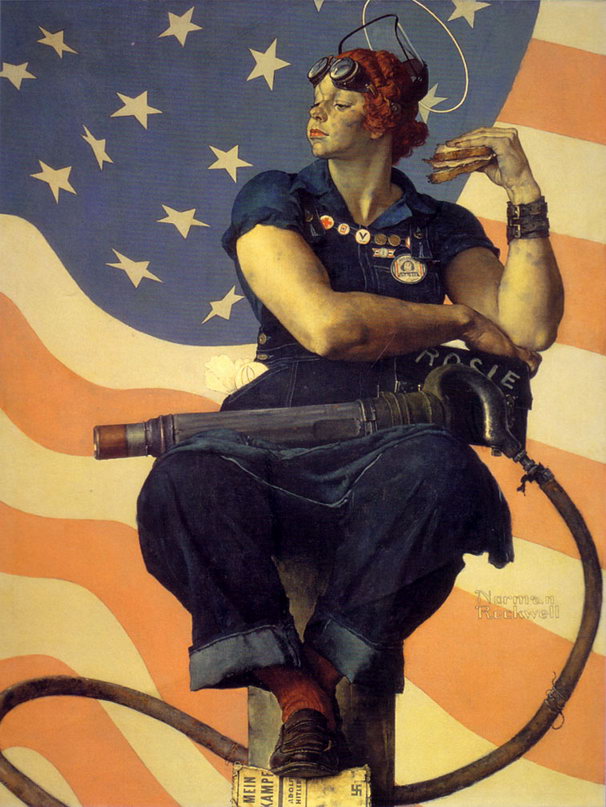 He really tapped into the hard-working, and optimistic themes of his day.
He used gentle brush strokes and soft colors and created warm scenarios... for the most part.
This painting above is called THE PROBLEM WE ALL LIVE WITH. It is the painting Obama has hanging right outside the Oval Office. Everyone who meets with him there will see it on their way in and on their way out. It is scheduled to hang there until Oct. 31st.
Norman Rockwell courageously and innocently tackled intense political themes just like his granddaughter, Daisy is doing today. "
According to Daisy, she's trying to paint terrorists — literally — in a different light." - theblaze.com
People's comments to CNN.com were accusing Daisy of being every horrible thing. They said she is a traitor and misguided and not as good a painter as Norman, but I think her work is brilliant and brave and important and enlightening.
See all the paintings ---> Click here.
It seems like she only uses bright colors that feel pulled directly from the "Terror Alert" color palette.
This Daisy Rockwell painting below is called Tuna Princess. It is a painting of Mohamed Mahmood Alessa, who was accused, along with Carlos Eduardo Almonte, of trying to get to Somalia to join a terrorist group. As far as terrorists go, he is probably the least likely to succeed since even his accusers admitted he had no real way of accomplishing anything. The descriptions of his crime sounded like he was guilty of violent, misogynist, reckless, poorly thought-out, half assed, angry day-dreams he shared aloud with a friend while simultaneously planning to take a trip from their home in New Jersey to a less horrible place in the horn of Africa. This according to the US government makes him and his equally luckless sidekick eligible for life in prison. The court said:
"
They were watching certain videos and interested in what certain people were saying and advocating." - huffingtonpost.com
That sounds like everyone on Twitter to me. When Alessa was arrested, he asked if he could take his cat with him.
Did Daisy make his skin tones bluish green because those colors on the Terror Alert chart are lower risk, like he was a lower risk in the grand scheme of things? Do his legs disappear into a black hole because she doesn't see him ever walking out of this legal abyss? Is he in a world of high alert orange, because he is in danger, or because he is a danger? Maybe the bed he has made, is a combination of these colors because both are likely, both are possible, both are where he exists now, at the end of everyday.
In my opinion, Daisy Rockwell's art asks: Do we all exist in this bleak place? Is this all American industry and ingenuity will be focused on for the foreseeable future; using every technological miracle available to us to hunt and capture every angry young man before they snap? Is that the real reason why "this is all Daisy can paint"; because she can only paint what we really are and this is what we really are? We live in a world full of people who are terrified of each other. All of our leaders, are currently plotting, to kill us all, on our behalf, in terrifying ways. We elect them because they promise that they will kill you, before you kill us.
After looking at and thinking about Daisy's art I think she may be as fine-tuned as her Grandfather Norman was to seeing, understanding and reflecting, in real time, what ideas are truly the most dominant and the most activating forces in American nationalism and culture.